Total Quality Control and Monitoring
Every project's development progress is systematically detailed and provided to you — at throughout the entire development process. At every critical juncture, and multiple points in between, your confirmation of the development process is secured.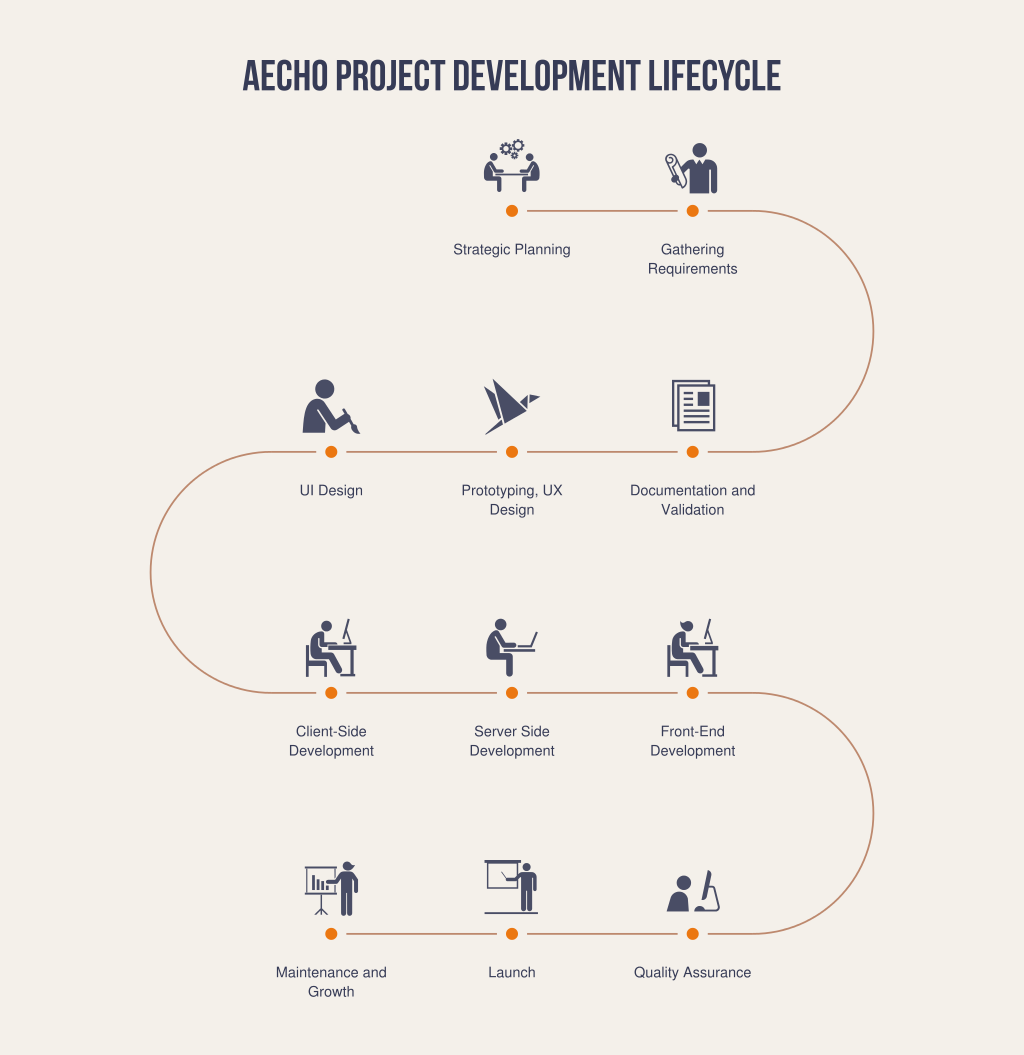 From beginning to end, Aecho's project lifecycle is designed to insure that each development project is delivered to the same exacting standards our industry clients have when developing in-house. We work hard to completely understand every aspect of the project's business, technical, and design needs and to deliver applications that exceed the expectations of our industry clients.
Strategic Planning
Business Needs
The first step is to understand the needs and goals of your client's business — to understand what they want to achieve for their business with their app. During the initial first-conference phase of working with our industry client, we take the time and ask the questions to learn and understand all of these details and create a comprehensive goal-list for the app.
Analysis
Every successful project starts from a good strategy. Mobile application development is no exception. From the information we learn during the initial first-conference phase we analyze and research the market, defining priorities and trends, then build a detailed application concept, incorporating its potential, functionality and general utility.
Gathering Requirements
Specification
Every app feature is categorized as a feature in the project and included in the SRS (Software Requirement Specification).
Documentation and Validation
Your project's documentation will be created by our experienced QA specialists. SRS will guide the project throughout — from planning, development through testing.
Design
Prototyping, UX Design
We develop a clear, precise and detailed prototype of the app for your approval. This prototype and UX design is  where our industry client, their client and our team of designers and developers agree on what the application is going to look like and how it is going to work.
UI Design
Depending on purposes, functionality, target audience, market trends and customer preferences our designers work through every element of an app to make it practical, user-friendly and pleasing to the eye according to the latest iOS, Android and Windows Phone guidelines.
Construction
The best prototype, design and analysis in the world is worthless without precision construction of your app by experienced developers. All of our developers are top 3% in iOS and Android. They'll construction of your app with have clean codes and smooth, stable functionality — every time.
Client Side Development
Your app will be developed using native iOS and Android technologies by our development teams. Depending on our industry client's demands we can also develop hybrid applications to achieve the full potential of iOS and Android environment.
Server Side Development
Depending on your needs, we develop a robust back-end and API to feed your app using PHP, ASP.NET coding to create a stable back-end for your system.
Front End Development
If your project requires a presence on web browsers, we fully develop the front-end for it. Our front-end works are W3C compliant and responsive.
Quality Assurance
Quality assurance is the single most important element to our work. You can't overstate the importance of a robust QA. Besides Android and iOS tools, we apply innovative testing technologies. We use functionality, stability, stress, localization, usability and regression testing.
Launch
Your app will be delivered either to you or directly to the store accounts you provide us. Depending on your specifications, client and server-side source codes will also be provided to you.
Maintenance and Growth
iOS and Android environments are constantly changing, improving. As you receive feedback from the app's users, there are evolving opportunities to improve or change it. We welcome the opportunity for ongoing relationships with our industry clients and to be able to develop these changes, improvements.